Jogendra Kumar Nayak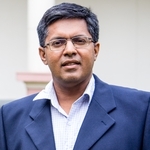 Jogendra Kumar Nayak
Associate professor
jogendra.nayak@ms.iitr.ac.in
01332-284758
Areas of Interest

Marketing Research, Industrial Marketing, International Business
Multiple Posts

| From | Period | Position | Organisation |
| --- | --- | --- | --- |
| 2019-01-01 | Ongoing | Professor in Charge-Training & Placement | DOMS-IIT Roorkee |
Honors and Awards

| Award | Institute | Year |
| --- | --- | --- |
| Expert Member of Standing Comittee on Research Methodology | Ministry of Home Affairs, Govt. of India | 2017 |
| Reviewer for the Executive Government agency, Poland. | National Science Centre | 2017 |
| Member Board of Studies | A.P.J Abdul Kalam Technical University | 2018 |
| Advisory Board Member | SRKay Consulting | 2018 |
Educational Details

| Degree | Subject | University | Year |
| --- | --- | --- | --- |
| PhD | Marketing | VGSOM, IIT-Kharagpur | 2012 |
| M.B.A | Marketing | Bharti Vidyapeeth's IMED, Pune University. | 2001 |
| B.E | Civil | Utkal Univ. | 1996 |
Sponsored Research Projects

| Topic | Funding Agency | Start Date | Period |
| --- | --- | --- | --- |
| Study on the handicraft industries: Empowering the artisans | ICSSR | 2018-01 | 2 years 2 months |
| Marketing Practices in Handicraft sector in Uttarakhand | IIT | 2013-01 | 3 years 6 months |
Memberships

American Marketing Association, Member
System Dynamics Society, Member
Indian Economic Association, Life time member
Eastern Asian society of transportation studies, Member
Teaching Engagements

| Title | Course Code | Class Name | Semester |
| --- | --- | --- | --- |
| Marketing Research | IBM-306 | B tech | Spring |
| Industrial Marketing | BM-667 | M.B.A | Spring |
Projects and Thesis Supervised

| Title of Project | Names of Students |
| --- | --- |
| Optimization of Transportation System for Safety of Women | Danish Benazeer |
| Service Quality Assessment of Access-egress Services towards Mass Rapid Transit System | Rashmi Choudhary |
PHDs Supervised

| Topic | Scholar Name | Status of PHD | Registration Date |
| --- | --- | --- | --- |
| Energy Marketing | Ganesh Kumar | O | 2019-01 |
| B2B Pricing | Piyush Ranjan | O | 2019-01-01 |
| Travel Behaviour & Travel demand management(CTRANS) | Jyoti Mandhani | O | 2018-01 |
| Experimental Analysis of Participatory Pricing with Reference to Pay-What-You-Want Pricing | Preety Narwal | A | 2016-01 |
| Achieving Customer Brand Engagement through Brand Communities | Jitender Kumar | A | 2015-01 |
| Developing experiential & emotional consumer relationships | Shivam Rai | A | 2015-01 |
| Renewable Energy Marketing: Special reference to wind energy | Deepak Sangroya | A | 2013-01 |
| Compulsive Buying behavior & Post purchase Regret: Familial & Non- Familial Stressors | Rashmi Singh | A | 2013-01 |
| Examining the Role of Destination Personality in Predicting Tourist Behaviour | Vikas Kumar | A | 2013-01 |
Visits to outside institutions

| Institute Visited | Purpose of Visit | Date |
| --- | --- | --- |
| Eastern Asia Society for Transportation Studies(Vietnam) | Paper Presentation | 2020-07-24 |
| ISBITM-Indonesia | Paper presentation | 2015-01-01 |
| Bilgi Univ-Istanbul | Paper Presentation | 2014-01-01 |
Invitations

| Topic | Organistaion | Date |
| --- | --- | --- |
| Data Analysis for Advanced Research | IIM Sirmaur | 2018-01 |
| Data Analysis Techniques | Symbiosis Institute of Management Studies | 2020-07 |
| Marketing Strategy | Everest Industries | 2017-01 |
| Industrial Marketing | UJVNL | 2017-01 |
Courses or Conferences Organised

| Conference Name | Sponsored By | Date |
| --- | --- | --- |
| 9-Short term courses on 'Data analysis for Research & Publication' | Self-Sponsored by Participants | 2018-01 |
Special Lectures Delivered

| Title | Place | Date |
| --- | --- | --- |
| Research Methodology in Economics and Allied Studies | Dept of HSS-IITR | 2016-01 |
| Customer Focus | BHEL, Haridwar | 2013-01 |
| Consumer engagement for Power Distribution Companies | IIT ROORKEE | 2020-07 |
Books Authored

Jogendra Kumar Nayak & P.C.Dash, Retail Management, Cengage, 2017.
Particulars of course organized under NPTEL

Marketing Research and Analysis-I, NPTEL (8 weeks)
Marketing research and analysis-II, NPTEL (12 weeks)
International Business (12 weeks)
Books Authored

Textbook on "Retail Management" by Cengage Publications (2016)

Retail Management is designed to serve as a textbook for a course in retail marketing. The aim of the book is to present retailing practices in India covering all aspects of undergraduate and postgraduate curricula of commerce and management. The book will also be of substantial benefit to doctoral students. The book covers topics related to complete the retailing process in India including the new dimensions of retailing such as online retailing. The book also provides a wide range of real-life examples and illustrations.
Refereed Journal Papers

Selected Publications

Narwal, P., & Nayak, J. K. (2020). How consumers form product quality perceptions in of fixed posted prices: Interaction of product cues with seller reputation and third-party reviews. Journal of Retailing and Consumer Services, 52, 101924.
Kumar, J., & Nayak, J. K. (2018). Brand community relationships transitioning into brand relationships: Mediating and moderating mechanisms. Journal of Retailing and Consumer Services, 45, 64-73.
Kumar, V., & Nayak, J. K. (2018). Destination personality: Scale development and validation. Journal of Hospitality & Tourism Research, 421), 3-25.
Kumar, J., & Nayak, J. K. (2019). Exploring destination psychological ownership among tourists: Antecedents and outcomes. Journal of Hospitality and Tourism Management, 39, 30-39.
Narwal, P., & Nayak, J. K. (2019). How consumers respond to social norms: an evidence from pay-what-you-want (PWYW) pricing. Journal of Consumer Marketing, 364), 494-505.
Kumar, J., & Nayak, J. K. (2019). Brand engagement without brand ownership: a case of non-brand owner community members. Journal of Product & Brand Management, 282), 216-230.
Kumar, J., & Nayak, J. K. (2019). Consumer psychological motivations to customer brand engagement: a case of brand community. Journal of Consumer Marketing, 361), 168-177.
Sangroya, D., & Nayak, J.K. 2017), "Factors influencing buying of Green energy Consumer", Journal of Cleaner Production, 151, 393- 40.
Nayak, J. K., & Bhalla, N. (2016). Motivating visitors for attending handicraft exhibitions: Special reference to Uttarakhand, India. Tourism Management Perspectives, 20, 238-245.
Narwal, P., & Nayak, J.K. Towards an Innovative Price Discrimination Strategy: Exploring Customers' Responses to Pay-What-You-Want pricing in Multi-Channel Retailing, Asia Pacific Journal of Marketing and Logistics. Accepted)
Singh, R., & Nayak, J. K. (2016). adolescent compulsive buying: mediating role of self-esteem. Asia Pacific Journal of Marketing and Logistics, 283), 396-419.
Nayak, J. K. (2018). Relationship smartphone usage, addiction, academic performance and the moderating role of gender: A study of higher education students in India. Computers & Education, 123, 164-173.

Conference Publication

India

Singh, R., & Nayak, J.K. (2015). "Stress as a Key for Compulsive Buying Tendencies among Adolescents in India", "Marketing in Emerging Economies" organized by IIM Ahmedabad on Jan 7-9, 2015.

Singh, R., & Nayak, J.K. (2015). "Role of Media in Increasing Materialistic Approach among Adolescents: A Critical Review", "GCMRM Conference" organized by MDI Gurgaon 11-13 March 2015.

Kumar, V., & Nayak, J.K. (2015). "Self-congruity, functional congruity and destination choice: The moderating role of prior experience", "GCMRM Conference" to be organized by MDI Gurgaon on March 11-13 2015.

Singh, R., & Nayak, J.K.2014). "Major Shifts in family structure and adolescents influence in the Family purchase decision: In Indian Context", "Listening to consumers of emerging markets" Organized by IIM Lucknow on January 9-11, 2014.

Singh, R., & Nayak, J.K. (2014). "Family Disruptive events and Youths Compulsivity: Moderating Role of Family support.", "Rethinking Marketing" Organized by IIM Calcutta on December 18-20, 2014.

Kumar, V., & Nayak, J.K. (2014). "Effect of online service quality dimensions on brand equity within retail banking in India", "Listening to consumers of emerging markets" Organized by IIM Lucknow on January 9-11, 2014.

Abroad

Nayak J.K. & Benajeer (2017), " Identifying and addressing the issue of women's fear of victimization in public transport: A case of Delhi", 12th EASTS conference held in Vietnam from 18-21 September 2017.

Nayak J.K2015) "Mobile technology and its impact on advertisement"16 ISBITM International conference held Indonesia, from January 24-26, 2015.

D & Nayak J.K (2014), "Evaluating of government policies in the deployment of the wind energy in India" International Conference on Energy and Management held at Bilgi University, Istanbul Turkey, from June 5th -7th 2014.

Case Publication

Nayak, J.K., Narwal, P. & Rajoria, V2017). : the threads. European Case Clearing House. Reference no. 517-0080-1

Nayak, J.K., Rai, S., & Narwal, P. (2017). Ripples in Indian Noodles Industry: A Case of WAIWAI. European Case Clearing House. Reference no. 517-0146-1