Dr. Kiran Ambatipudi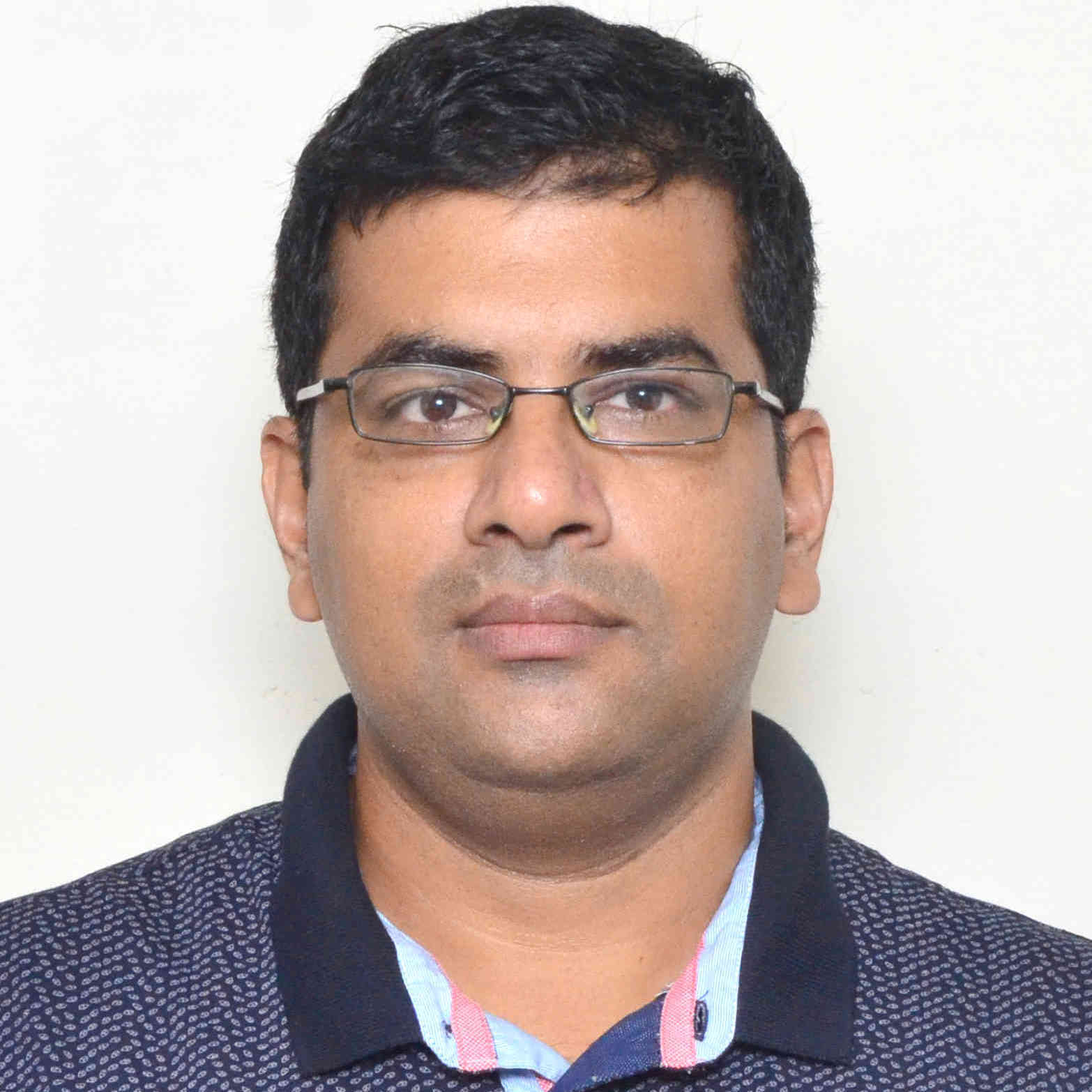 Srinivas Kiran Ambatipudi
Associate professor
kiran.ambatipudi@bt.iitr.ac.in
+91-1332-284786
Areas of Interest

Application of proteomics in elucidate the role of milk proteins in the pathophysiology of animal disease, Chemoresistance and breast cancer progression
Professional Background

| From | Period | Position | Organisation |
| --- | --- | --- | --- |
| 2013-08-12 | 5 months 3 days | Scientist | Vaccine Production Program Laboratory, National Institutes of Health, Bethesda, USA |
| 2013-06-24 | 1 month 16 days | Senior Scientist | Eurofins Medinet, Chantilly, USA |
| 2010-06-21 | 2 years 7 months 25 days | Research Fellow | Dental and Craniofacial Institute, National Institutes of Health, Bethesda, USA |
| 2007-08-15 | 2 years 10 months 3 days | Postdoctoral Research Associate | School of Medicine and Dentistry, University of Rochester, Rochester, USA |
| 2005-01-01 | 2 years | Instructor | School of Biological Sciences, Macquarie University, Sydney, Australia |
Multiple Posts

| From | Period | Position | Organisation |
| --- | --- | --- | --- |
| 2020-08-10 | Ongoing | Associate Professor | Indian Institute of Technology Roorkee |
| 2020-01-01 | Ongoing | Associate Dean of Students' Welfare (Student Wellness) | Indian Institute of Technology Roorkee |
| 2018-01-01 | Ongoing | Faculty Advisor | E Summit, Indian Institute of Technology Roorkee |
| 2016-01-01 | Ongoing | Member DRC (Departmental Research Committee | Dept. of Biotechnology, Indian Institute of Technology Roorkee |
| 2014-01-17 | 6 years 6 months 24 days | Assistant Professor | Department of Biotechnology, Indian Institute of Technology, Roorkee, India |
| 2018-07-01 | 1 year 11 months 29 days | Chief Warden | Rajiv Bhawan, Indian Institute of Technology Roorkee |
| 2016-07-01 | 1 year 11 months 29 days | Warden | Rajiv Bhawan, Indian Institute of Technology Roorkee |
| 2016-07-01 | 11 months 29 days | Staff Advisor Students Club, Cricket | Indian Institute of Technology Roorkee |
Honors and Awards

| Award | Institute | Year |
| --- | --- | --- |
| Outstanding Research in Biotechnology (Veterinary and Animal Science Discipline) | Venus International Foundation | 2021 |
| Distinguished member of "Research Committee" | Swami Rama Himalayan University, Jolly Grant, Dehradun | 2021 |
| Member for "Scientific Panel of Antibiotic Residues" | Food Safety and Standards Authority of India, Ministry of Health and Family Welfare | 2020 |
| International travel support(DST-SERB) | 65th American society of mass spectrometry, Indianapolis, USA | 2017 |
| 2nd Prize in Oral Presentation | International Conference in Genomics and Proteomics | 2014 |
| Travel Fellowship for Oral Presentation | International Society for Developmental and Comparative Immunology, Charleston, USA | 2006 |
| Awarded with Travel Fellowship in the year 2006 during the work at Macquarie University Travel Grant | Macquarie University, Sydney, Australia | 2005 |
| Travel Fellowship for Oral Presentation | International Society for Wild Life Disease, Cairns, Australia | 2005 |
| Travel Fellowship for Poster Presentation | Australian Peptide Conference, Hamilton Island, Australia | 2005 |
| Travel Fellowship for Poster Presentation | Lorne Protein Conference, Philip Island, Australia | 2005 |
Educational Details

| Degree | Subject | University | Year |
| --- | --- | --- | --- |
| PhD | Biological Sciences | Macquarie University, Sydney, Australia | 2007 |
| MSc | Applied Genetics | University of Birmingham, Birmingham, UK | 2003 |
| BVSc. & AH | Veterinary Science | Odisha University of Agriculture and Technology | 2002 |
Sponsored Research Projects

| Topic | Funding Agency | Start Date | Period |
| --- | --- | --- | --- |
| Bee sting | DBT | 2021-06-07 | Ongoing |
| Bovine milk fat globule characterization | DBT | 2020-08-05 | Ongoing |
| Quantitative proteomics of milk proteins in bovine mastitis | MHRD | 2014-04 | 3 years |
| Bovine milk glycoproteomics | DST-SERB | 2016-08 | 3 years 2 months |
| Lipidomics of bovine milk under different seasons and feeds | DBT | 2015-09 | 3 years |
Memberships

Odisha Veterinary Council, Member
Proteomics Society of India, Life Membership
Teaching Engagements

| Title | Course Code | Class Name | Semester |
| --- | --- | --- | --- |
| Genomics and Proteomics | BTN-441 | B Tech Year 3 | Spring |
| Good Laboratory Practices and Bioethics | BTN-636 | Pre-PhD | Spring |
| Technical Communication | BTN-524 | MSc and Pre-PhD | Spring |
| Animal Biotechnology | BTN-305 | B Tech - Year 3 | Autumn |
| Technical Communication | BTN-391 | B Tech- Year 3 | Autumn |
Research Scholar Groups

| Scholar Name | Interest |
| --- | --- |
| Kuldeep Giri | Salivary Proteins in Breast Cancer Progression |
| Monica Yadav | Human Milk and its Role in Modulation of Gut Microbiota |
| Ayushi Kapoor | Bovine Milk in Breast Cancer Therapy |
| Vinod Bisht | Development of Chemosresistance in Breast Cancer |
| Arpita Das | Characterization of bovine milk |
PHDs Supervised

| Topic | Scholar Name | Status of PHD | Registration Date |
| --- | --- | --- | --- |
| Isolation and Characterization of Bovine Milk Lipids | Aparna Verma | A | 2014-07-15 |
| Bovine milk characterization in clinical mastitis | Sudipa Maity | A | 2016-01 |
Invitations

| Topic | Organistaion | Date |
| --- | --- | --- |
| International Virtual Conference on Emerging Challenges to Veterinary Profession | Indian Veterinary Association- Virtual Conference | 2021-06-19 |
| Career Symposium 2021 by International Faculty for the Trainees | National Institutes of Health | 2021-05-03 |
| The ABC of Grant Writing | P value | 2021-04-18 |
| Indicators of Internal Ecological Factors of Shifting from Bovine Mammary Symbiosis to Dysbiosis: How Early? and How Fast? | Proteomics Society of India | 2021-01-29 |
| In-Depth Bovine Milk Analysis to Unearth Goldmine Beneficial for Health Applications | College of Veterinary Science and Animal Husbandry (National Webinar) | 2020-08 |
| Characterization of Bovine Milk in Health and Disease | Lovely Professional University | 2020-08 |
| Human Saliva: Body's Mirror in Health and Disease? | ASEAN -INDIA Workshop on "Emerging Technologies for Young Biotech Professionals, IGIB, New Delhi | 2019-09 |
| The Walk of Life in Biological Laboratory: Dos and Don'ts | Department of Biochemistry, Panjab University, Chandigarh, India | 2018-03 |
| Human Saliva: Body's Mirror in Health and Disease? | Institute of Life Science, Bhubaneswar, Odisha, India | 2017-03 |
| Proteomics in Veterinary Research: Bench-to-Pen Side | NTR College of Veterinary Science, Sri Venkateswara University, Gannavaram, Andhra Pradesh, India | 2019-04 |
Books Authored

Editors: Debiprasanna Das, Kiran Ambatipudi, Bhabesh C. Das, Basanti Jena, Hidden Treasure: Veterinary Science, Brillion Publishing, 2021, ISBN Code: 978-93-90757-07-7.
Other work

- Journal Reviewer

1. Food Chemistry, 2. Food Research International, 3. PLoS ONE, 4. Journal of Food Engineering, and 4. BMC Veterinary Research
Patents

1. Srinivas Kiran Ambatipudi, Saurav Datta, Aparna Verma."Functionalized membrane based Process for selective isolation and Enrichment of milk fat globules (MFGs)". Patent No: 357223

2. Srinivas Kiran Ambatipudi and Aparna Verma. 'A Bioconversion Process To Produce Bioactive Cordyceps Species From Food Waste' Indian Patent, Provisional Patent no: application number '201811023344'filed on June 22nd, 2018.
Books Authored

Book Chapter

1. Ayushi Kapoor, Monica Yadav, Aparna Verma, Kiran Ambatipudi (2021). Biotechnological Applications in Food Production, Processing, Packaging, and Safety. In: Sustainable Agriculture Reviews 54: Animal Biotechnology for Livestock Production. Editors: Vinod Kumar Yata, Ashok Kumar Mohanty, and Eric Lichtfouse. Publisher: Springer Nature. (In Press)

2. Kuldeep Giri, Vinod Singh Bisht, Sudipa Maity, Kiran Ambatipudi (2020). Biotechnological Advances for Microbiology, Molecular Biology, and Nanotechnology: An Interdisciplinary Approach to the Life Sciences. Editors: Rout, Kerry, and Dutta. Chapter 14, Apple Academic Press. (In Press)

2. Marcelo A. Catalán, Kiran S. Ambatipudi and James E. Melvin. (2012). Salivary Gland Secretion. In: Physiology of the Gastrointestinal Tract. Chapter: 45, Elsevier. Editor: Leonard R. Johnson, Academic Press, 2012, pp. 1229-1250.
Refereed Journal Papers

2021

1. Kuldeep Giri, Sudipa Maity, Kiran Ambatipudi. In Silio Data Mining of Human Body Fluids to Unravel the Immunome in Breast Cancer. Journal of Proteins and Proteomics. https://doi.org/10.1007/s42485-021-00056-z

2. Sudipa Maity and Kiran Ambatipudi. Mammary Microbial Dysbiosis Leads to the Zoonosis of Bovine Mastitis: A One-Health Perspective. FEMS Microbiology Ecology, 97 (1).

2020

3. Aparna Verma, Ningombam Sanjib Meitei, Prakash Gajbhiye, Mark Raftery, Kiran Ambatipudi. Comparative analysis of milk triglycerides profile between Jafarabadi buffalo and Holstein Friesian cow. Metabolites,10 (12), 507.

4.Sudipa Maity, Debiprasanna Das, Kiran Ambatipudi. Quantitative Alterations in Bovine Milk Proteome between Healthy, Subclinical and Clinical Mastitis during S. aureus Infection. Journal of Proteomics, 223, 103815.

5. Sudipa Maity, Aadil Bhat, Kuldeep Giri, Kiran Ambatipudi. BoMiProt: A Database of Bovine Milk Proteins. Journal of Proteomics, 215, 103648.

6. Aparna Verma¶, Ajay K. Sharma¶, Ayushi Agarwal, Saurav Datta*, Kiran Ambatipudi*. Selective Enrichment of Milk Fat Globules Using Functionalized Polyvinylidene Fluoride membrane. Preparative Biochemistry and Biotechnology, 50, 18-27. ¶ Equal Contribution; * Co-Corresponding Author

2019

7. Aparna Verma, Tamoghna Ghosh, Bharat Bhushan, Gopinath Packirisamy, Naveen K. Navani, Pranita P. Sarangi, Kiran Ambatipudi. Characterization of Difference in Structure and Function of Fresh and Mastitic Bovine Milk Fat Globules. PLoS One, 14 (8), e0221830.

8. Teotia D, Gaid M, Saini SS, Verma A, Yennamalli RM, Khare SP, Ambatipudi K, Mir JI, Beuerle T, Hänsch R, Roy P, Agrawal PK, Beerhues L, Sircar D. Cinnamate:CoA-ligase is involved in Benzoate-derived Biphenyl Phytoalexin Biosynthesis in Malus × domestica 'Golden Delicious' Cell Cultures. Plant J. 100, 1176-1192.

9. Sudipa Maity, Kiran Ambatipudi. Quantitative Proteomics of Milk Whey Reveals Breed and Season Specific Variation in Protein Abundance in Holstein Friesian Cow and Murrah Buffalo. Research in Veterinary Science, 125, 244-252.

10. Kuldeep Giri, Anurag Mehta, Kiran Ambatipudi. In search of the Altering Salivary Proteome in Metastatic Breast and Ovarian Cancer. FASEB BioAdvances, 1, 191-207. (In the top 10% of most downloaded papers of FASEB BioAdvances Journal between January 2018-December 2019)

11. Aadil H. Bhat, Sudipa Maity, Kuldeep Giri, Kiran Ambatipudi. Protein glycosylation: Sweet or Bitter for Bacterial Pathogens? Critical Reviews in Microbiology, 45, 82-102.

2018

12. Atin Sharma, Vineet Dubey, Rajnikant Sharma, Kuldip Devnath, Vivek Kumar Gupta, Jawed Akhter, Timsy Bhando, AparnaVerma, Kiran Ambatipudi, Mihir Sarkar, Ranjana Pathania. The unusual glycine rich C-terminus of the Acinetobacter baumannii RNA chaperone Hfq plays an important role in bacterial physiology. Journal of Biological Chemistry, 293, 13377-13388.

13. * #Sarangi PP, #Chakraborty P, Dash SP, Ikeuchi T, Vega SD, Ambatipudi K, Wahl L, *Yamada Y. Cell adhesion protein Fibulin-7 and its C-terminal fragment negatively regulate monocyte and macrophage migration and functions in vitro and in vivo. FASEB Journal, 32, 4889-4898.

2017

14. Kumar P, Kesari P, Dhindwal S, Choudhary A.K., Katiki M, Neetu, Verma A, Ambatipudi K, Tomar S, Sharma A.K., Mishra G, Kumar P. A novel function for globulin in sequestering plant hormone: Crystal structure of Wrightia tinctoria 11S globulin in complex with auxin. Scientific Reports, 7, 4705.

2016

15. Aparna Verma and Kiran Ambatipudi. Challenges and opportunities of bovine milk analysis by mass spectrometry. Clinical Proteomics, 13, 8. (Invited Review)

2015

16. Shveta Bathla#; Preeti Rawat#; Rubina Baithalu; Munna Lal Yadav; Jasmine Naru; Anurag Tiwari; Sudarshan Kumar; Ashok K. Balhara; Surender Singh; Suman Chaudhary; Rajesh Kumar; Pradip Behere; Sushil K. Phulia; Tushar K. Mohanty; Jai K. Kaushik; Shivramaiah Nallapeta; Inderjeet Singh; Srinivas K. Ambatipudi; Ashok K. Mohanty. Profiling of cow urinary proteins using various extraction methods reveals more than 1550 proteins. Journal of Proteomics, S1874-3919, 30023-3. # (Equal Contribution).

Pre-IITR

1. Peter Burbelo, Kiran Ambatipudi, Ilias Alevizos (2014). Genome-wide association studies in Sjögren's Syndrome: what are the genes telling us about disease pathogenesis? Autoimmunity Reviews, 13, 756-761.

2. Kiran S. Ambatipudi* and James E. Melvin (2013). Cancer biomarker discovery in saliva by mass spectrometry. (*Corresponding author), Oncology, Gastroenterology and Hepatology Reports, 2, 1-8.

3. Kiran S. Ambatipudi, Steve Swatkoski, James J. Moresco, Patricia G. Tu, Andreea Coca, Jennifer H. Anolik, Marjan Gucek, Igñacio Sanz, John R. Yates III, James E. Melvin (2012). Quantitative proteomics of human parotid saliva in primary Sjögren's syndrome. Proteomics, 12, 1-8.

4. Bassim CW*, Ambatipudi KS*, Mays JW, Edwards DA, Swatkoski S, Fassil H, Bird K, Gucek M, Melvin JE, Pavletic SZ (2012). Quantitative salivary proteomics of oral chronic Graft-versus-Host Disease in humans. (*Co- First Author), Journal of Clinical Immunology, 32, 1390-9.

5. Gregoire S, Silva BB, Gonzalez I, Agidi PS, Xiao J, Klein MI, Ambatipudi KS, Bauserman R, Waugh R, Koo H (2011). A novel role for the glucosyltransferase B in Candida albicans interactions with Streptococcus mutans and apatitic surfaces. Applied and Environmental Microbiology, 77, 6357-67.

6. Kiran S. Ambatipudi, Fred K. Hagen, Claire Delahunty, Xuemei Han, Rubina Shafi, Jennifer Hryhorenko, Stacy Gregoire, Bob Marquis, James E. Melvin, Hyun M. Koo, John R Yates III (2010). Human Common Salivary Protein-1 (CSP-1) Promotes binding of Streptococcus mutans to experimental salivary pellicle and glucans formed on hydroxyapatite surface. Journal of Proteome Research, 9, 6605-14.

7. Kiran S. Ambatipudi, Bingwen Lu, Fred K. Hagen, James E. Melvin, John R. Yates III (2009). Quantitative analysis of age specific variation in the expression of human female parotid salivary proteins. Journal of Proteome Research, 8, 5093-5102. (Highlighted in the issue of J Proteome Res.).

8. Kiran S. Ambatipudi and Elizabeth Deane (2008). Proteomic analysis of neutrophil granule proteins in the Tammar wallaby (Macropus eugenii). Molecular Immunology, 45; 690-700.

9. Kiran S. Ambatipudi, Janice Joss, Mark Raftery and Elizabeth Deane (2008). A proteomic approach to analysis of antimicrobial activity in marsupial pouch secretions. Developmental and Comparative Immunology, 32; 108-20.

10. Kiran S. Ambatipudi, Janice Joss and Elizabeth Deane (2007). A comparative proteomic analysis of skin secretion of the tammar wallaby (Macropus eugenii) and the wombats (Vombatus ursinus). Comparative Biochemistry and Physiology Part D: Genomics and Proteomics, (2); 322-331.

11. Kiran S. Ambatipudi, Julie Old, Michael Guilhaus, Mark Raftery, Lyn Hinds and Elizabeth Deane (2006). Proteomic analysis of neutrophil proteins in the Tammar wallaby (Macropus eugenii). Comparative Biochemistry and Physiology, Part D: Genomics and Proteomics, (1): 283- 291.

12. Pattanaik T. K., Nath I., Bose V. S. C., Kiran A. S. (2001). Bone plating of distal radioulnar fracture in a dog. Indian Journal of Veterinary Surgery, Vol. 22(1): 59-60.

13. Pattanaik T. K., Nath I., Bose V. S. C., Kiran A. S. (2001). Open reduction of elbow dislocation in a dog. Indian Journal of Veterinary Surgery, Vol. 22(1): 63.

http://scholar.google.co.in/citations?user=VkaWZ6QAAAAJ&hl=en