Sadhan Ghosh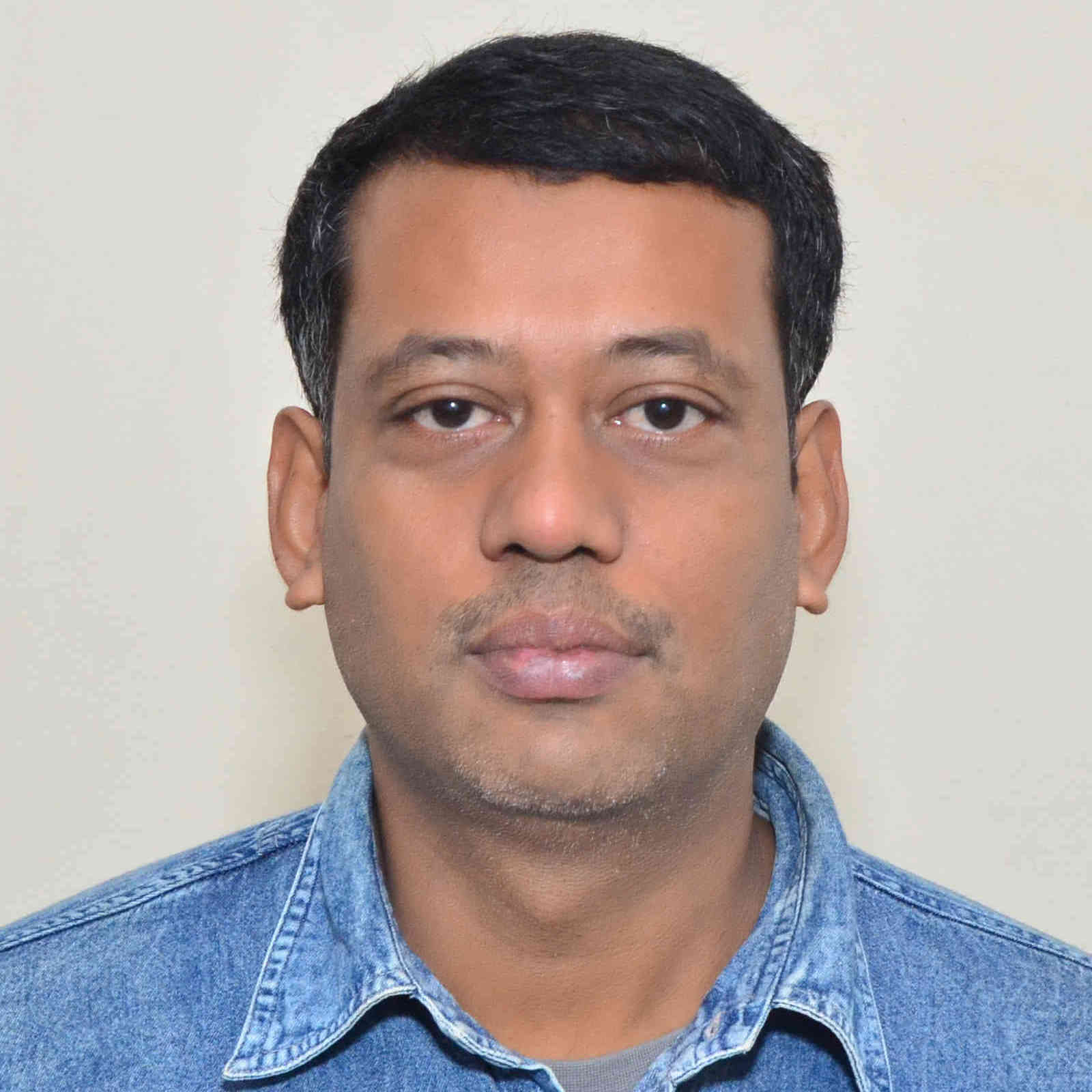 Sadhan Ghosh
Assistant Professor
sadhan.ghosh@mt.iitr.ac.in
01332-284762
Areas of Interest
Alloy development, Designing of steels for automotives, power plants and in general.
Phase Transformations, Structure-property-correlation by Thermo_calc, Dictra Simulations and Experiments
Professional Background
| From | To | Designation | Organisation |
| --- | --- | --- | --- |
| 2012 | continuing | Assistant Professor | IIT Roorkee |
| 2010 | 2012 | Visiting Scientist | IGCAR Kalpakkam |
| 2008 | 2010 | Postdoctoral Fellow | GIFT, POSTECH, South Korea |
| 2003 | 2008 | PhD | Saarland University, Germany |
| 2000 | 2002 | M.E. | IISc Bangalore |
| 1996 | 2000 | B.E. | IIEST, Shibpur, Howrah |
Honors and Awards
| Award | Institute | Year |
| --- | --- | --- |
| Best Poster Award | IITR | 2017 |
| Visiting Scientist | IGCAR, Kalpakkam | 2010-2012 |
| Post Doctoral Fellow | GIFT, POSTECH | 2008-2010 |
| Doctoral Fellowship | Center for Functional Nanostructures-CFN | 2006-2008 |
| Doctoral Fellowship | Karlsruhe University of Technology | 2003-2006 |
| National Scholarship from MHRD | Higher Secondary | 1995 |
Educational Details
| Degree | Subject | University | Year |
| --- | --- | --- | --- |
| Ph.D. | Nanomaterials | Karlsruhe Institute of Technology & Saarland University, Germany | 2008 |
| M.E. | Metallurgical Enginnering | IISc Bangalore | 2002 |
| B.E. | Metallurgical Enginnering | Bengal Engineering and Science University | 2000 |
Administrative Background
| From | To | Designation | Organisation | Level |
| --- | --- | --- | --- | --- |
| 2017 | ongoing | O.C. TA duty | MMED, IITR | |
| 2017 | ongoing | Addl. O.C. Office | MMED, IITR | |
| 2014 | 2015 | Faculty Adviser | COGNIZANCE | |
Sponsored Research Projects
| Topic | Funding Agency | Year |
| --- | --- | --- |
| Nanostructured Bainitic Steel | IMPRINT | 2018 |
| stability of retained austenite in steel | SERB-DST | 2018 |
| Wear resistant intermetallics | MHRD-FIG | 2013 |
Participation in seminars
| Name | Place | Sponsored By | Date |
| --- | --- | --- | --- |
| Modern Steels and Iron Alloys | Warsaw, Poland | MHRD | June, 2018 |
| Materias Science and Technology-MST | Pittsburgh, USA | IIT Roorkee | 2014 |
| Asia International Steel Conference | Busan, South Korea | POSTECH | 2009 |
| International Seeheim Conference | Frankfurt, Germany | CFN | 2007 |
| International Magnetic Conference-INTERMAG | San Diego, California, USA | KIT | 2006 |
| German Physical Society-DPG | Dresden, Germany | KIT | 2006 |
| German Physical Society-DPG | Berlin, Germany | KIT | 2005 |
Teaching Engagements
| Title | Course Code | Class Name | Semester |
| --- | --- | --- | --- |
| Materials Science | MT106 | B.Tech | Autumn |
| Structural Metallurgy | MT104 | BTech | Spring |
| Phase Transformations and Heat Treatment | MTN203 | BTech | Autumn |
| Modelling, Simulation and Computer Applications | MT503 | MTech | Spring |
| Metallurgical Thermodynamics and Kinetics | MT 506 | MTech | Autumn |
Projects and Thesis Supervised
| Title of Project | Names of Students |
| --- | --- |
| Spark plasma sintered Low Density Steel | Mr. Syed Ahed |
| Deformation of IF steel | Mr. Aarif Kamal |
| Synthesis and Characterization of Low Density Steel | Mr. Sunil Kumar Mahato |
| Ageing Behaviour of Inconel 718 Prepared by Laser Processing | Mr. Ajay Singh Tomar |
| Synthesis and Characterization of Low Density Steel | Mr. Atul Chaudhry |
| High Strength and High Ductility of IF Steel for Automobile Applications | Ms. Monika Gautam |
| Micomechanical Behaviour of Microalloyed Steels by Hot Deformation Study | Mr. Mrinmoy Sinha |
| Meidema's Model on Spinodal Decomposition in Fe-Based Binary and Ternary Alloys | Mr. Santosh Kumar N.L. |
| Dynamic Recrystallization & Strengthening Behaviour of IF Steel under Hot Deformation Study | Mr. Nikhil Sajan |
PHDs Supervised
| Topic | Scholar Name | Status of PHD | Registration Year |
| --- | --- | --- | --- |
| Austenite stability | Sravan Kumar | O | 2018 |
| Deformation of steel | Pravendra Pratap Singh | O | 2018 |
| Development of Low density steel | Mr. ajay Kumar | O | 2018 |
| Strengthening of interstitial free steel | Mrinmoy Sinha | O | 2014 |
Refereed Journal Papers
Ghosh S., "Equilibrium versus paraequiibrium precipitation of cementite in ternary alloys: Thermodynamic and kinetic interpretations", Trans. IIM, 71 (2018) 1265-1278.
Ghosh S., "Switching magnetic order in nanoporous Pd–Ni by electrochemical charging" Journal of Material Research, 28 (2013) 3010-17.
Ghosh S., Basu J., Ramachandran D., Mohandas E., Vijayalakshmi M., "A unified approach to phase and microstructural stability for Fe-ETM alloys through Meidema's model", Intermetallics, 23 (2012) 148.
Ghosh S., "Kinetic study on the coarsening behaviour of cementite in Fe-0.45C-0.22Si-0.62Mn steel during tempering" Journal of Tribology and Surface Engineering, 2 (2011) 117.
Ghosh S., "Charge response of magnetization in nanoporous Pd-Ni alloys" Journal of Magnetism and Magnetic Materials, 323 (2011) 552.
Ghosh S., "Kinetic study on the coarsening behaviour of equilibrium phases in Nb alloyed ferritic stainless steels at 700

oC" Materials Chemistry and Physics, 124 (2010) 13.
Ghosh S., "Rate controlling parameters in the coarsening kinetics of cementite in Fe-0.6C steels during tempering" Scripta Materilia, 63 (2010) 273.
Yi H. L., Ghosh S., Bhadeshia H. K. D. H., "Dual-phase hot-press forming alloys" Materials Science and Engineering A, 527 (2010) 4870.
Ghosh S., "The role of tungsten in the coarsening behaviour of M23C6 carbide in 9Cr-W steels at 6000C'' Journal of Materials Science, 45 (2010) 1823.
Balaji G., Ghosh S., Doebrick F., Eckerlebe H., Weissmüller J., "Small-angle neutron scattering of nanocrystalline terbium with random paramagnetic susceptibility" Physical Review Letters, 100 (2008) 227202.
Ghosh S., Lemier C., Weissmüller J., "Charge-dependent magnetization in nanoporous Pd-Co alloys" IEEE Transactions on Magnetics, 42 (2006) 3617.
Lemier C., Ghosh S., Weissmüller J., Fei G -T., Viswanath R.N., "Charge induced variation of the magnetization in nanoporous Ni-Pd" MRS Symposium Proceedings, 876E (2005) R2.6.1.