Deepak Sharma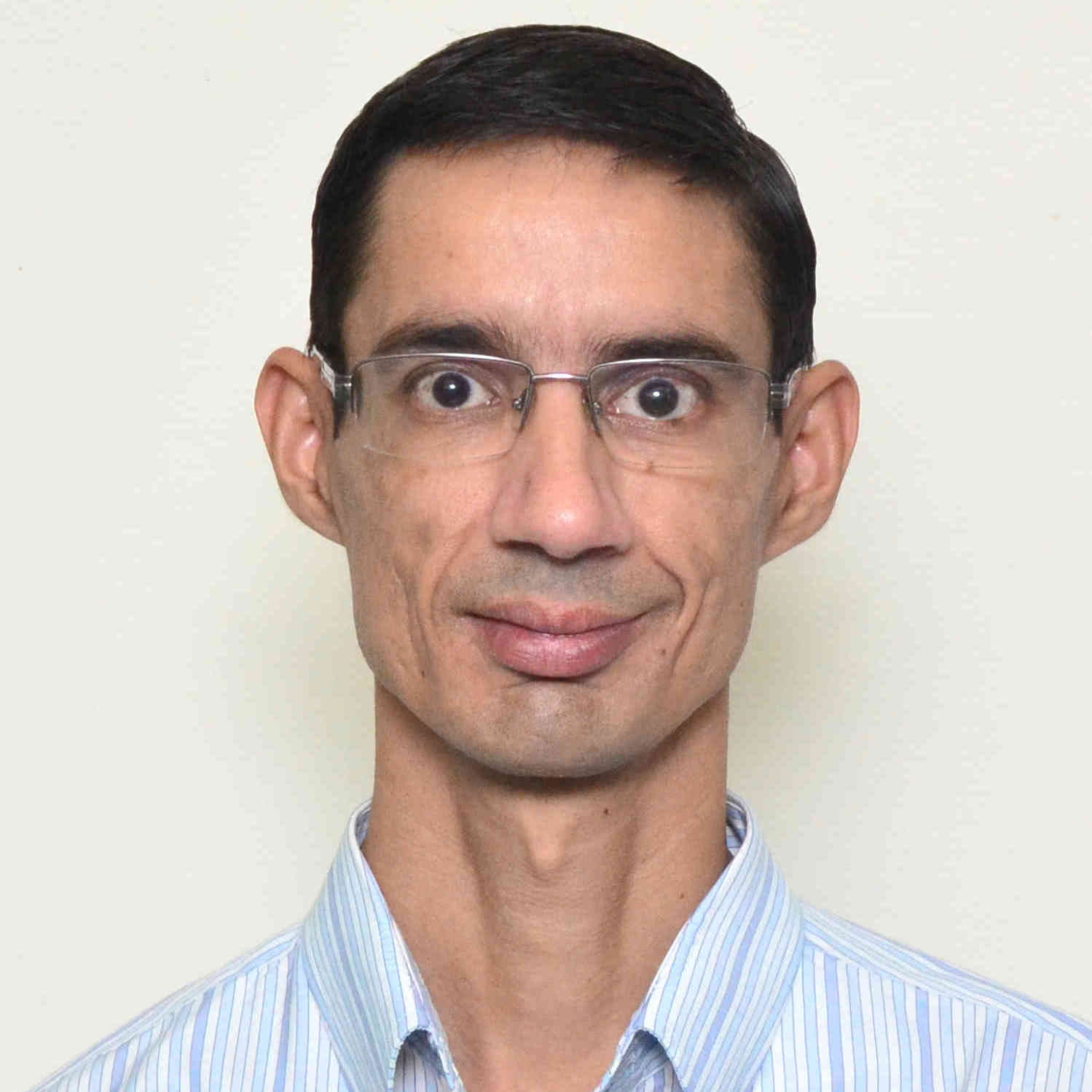 Deepak Sharma
Assistant Professor
deepak.fbt[at]iitr.ac.in
+91-1332-284827
Website
Areas of Interest
Computational Biology, Translational Bioinformatics, Machine Learning, Systems Biology, Pathways/Networks, Motifs, miRNAs, MD simulation, Flaviviruses, Mycobacteria, Metagenomics
Professional Background
| From | To | Designation | Organisation |
| --- | --- | --- | --- |
| Dec'14 | Till date | Assistant Professor | Indian Institute of Technology Roorkee |
| Jul'11 | Dec'14 | Research Scientist C | Translational Health Science & Technology Institute |
| May'12 | July'12 | Visiting Faculty | University of Maryland |
| July'08 | June'11 | INSA Young Scientist | National Institute of Immunology |
| July'06 | June'08 | DBT-Postdoctoral Fellow | National Institute of Immunology |
Honors and Awards
| Award | Institute | Year |
| --- | --- | --- |
| Future Global Leader | Japan Science and Technology Agency | 2017 |
| Haryana Yuva Vigyan Ratna Award 2013-14 | Department of Science and Technology, Haryana | 2017 |
| Editorial Board Member, Proceedings of the INSA | Indian National Science Academy | 2015 |
| Founding member of INYAS | Indian National Science Academy | 2015 |
| INSA Medal for Young Scientist | Indian National Science Academy | 2008 |
| DBT Post Doctoral Fellowship | Department of Biotechnology, Govt. of India | 2006 |
Educational Details
| Degree | Subject | University | Year |
| --- | --- | --- | --- |
| Ph.D. | Biotechnology | All India Institute of Medical Sciences | 2006 |
| M. Biotechnology | Biotechnology | All India Institute of Medical Sciences | 2000 |
| B.Sc.(H) Human Biology | Biochemistry | All India Institute of Medical Sciences | 1998 |
Administrative Background
| From | To | Designation | Organisation | Level |
| --- | --- | --- | --- | --- |
| 2015 | Ongoing | Incharge | Supercomputing Facility | |
| 2016 | Ongoing | Coordinator | Examinations | |
| 2016 | Ongoing | Departmental Representative | ERP | |
| 2016 | Ongoing | Incharge | Departmental Alumni Data | |
| 2016 | Ongoing | Member | DPC | |
| 2017 | Ongoing | Member | Institute Ranking Analytics Committee | |
| 2017 | Ongoing | Member | ICC Advisory Committee | |
| 2017 | Ongoing | Member | Departmental Safety Committee | |
| 2018 | Ongoing | Member | DAPC | |
| 2016 | 2017 | Member | DRC | |
Teaching Engagements
| Title | Course Code | Class Name | Semester |
| --- | --- | --- | --- |
| Computer Programming | BTN-103 | B.Tech. | Autumn |
| Bioinformatics | BTN-205 | B.Tech. | Autumn |
| Biotech Lab I | BTN-208 | B.Tech. | Spring |
| Computational Biology | BTN-492 | B.Tech. | Spring |
| Computer Applications | BTN-511 | M.Sc. | Autumn |
| Bioinformatics | BTN-630 | M.Sc. | Spring |
| Computational Biology | BTN-664 | M.Tech. | Spring |
Research Scholar Groups
| Scholar Name | Interest |
| --- | --- |
| Anjana | Pathways/Networks, Mycobacteria, JEV |
| Shreya Srivastava | Machine Learning, Metagenomics |
| Kavya Singh | Medicinal Plants, miRNA |
Refereed Journal Papers
Malik S, Sadhu S, Pandey RP, Chawla AS, Sharma D, Panda L, Rathore D, Ghosh B, Ahuja V, Awasthi A (2017) Transcription factor Foxo1 is essential for IL-9 induction in T helper cells, Nat Commun, 8, 815.

Sharma Bhai P, Sharma D, Saxena R, Verma IC (2017) Next-generation sequencing reveals a nonsense mutation (p.Arg364Ter) in MRE11A gene in an Indian patient with Familial Breast Cancer, Breast Care, 12, 114-116.

Vyas B, Puri RD, Namboodiri N, Nair M, Sharma D, Movva S, Saxena R, Bohora S, Aggarwal N, Vora A, Kumar J, Singh T and Verma IC (2016) KCNQ1 mutations associated with Jervell and Lange-Nielsen syndrome and Autosomal Recessive Romano-Ward syndrome in India - expanding the spectrum of Long QT syndrome type 1. Am J Med Genet, 170, 1510-1519.

Sharma D*, Priyadarshini P and Vrati S (2015) Unraveling the web of viroinformatics: computational tools and databases in virus research. J Virol, 89, 1489-1501.

Bijarnia-Mahay S, Movva S, Gupta N, Sharma D, Puri RD, Kotecha U, Saxena R, Kabra M, Mohan N and Verma IC (2015) Molecular diagnosis of Hereditary Fructose Intolerance - Founder mutation in a community from India. JIMD Reports, 19, 85-93.

Movva S, Kotecha U, Sharma D, Puri RD and Verma IC (2014) Prenatal diagnosis and elucidation of a novel molecular basis in Carpenter syndrome. J Fetal Medicine, 1, 89-93.

Kotecha UH, Movva S, Sharma D, Verma J, Puri RD and Verma IC (2014) Molecular evaluation of a novel missense mutation and an insertional truncating mutation in SUMF1 gene. Indian J Med Res, 140, 55-59.

Sharma D* and Surolia A (2013) Pathway targeting, antimycobacterial drug design. Encyclopedia of Systems Biology (Springer), 1656-1659.

Sharma D and Surolia A (2013) Degree centrality. Encyclopedia of Systems Biology (Springer), 558.

Sharma D* and Surolia A (2011) Computational tools to study and understand the intricate biology of mycobacteria. Tuberculosis (Edinb), 91, 273-276.

Chauhan S, Sharma D, Singh A, Surolia A and Tyagi JS (2011) Comprehensive insights into Mycobacterium tuberculosis DevR (DosR) regulon activation switch. Nucleic Acids Res, 39, 7400-7414.

De Majumdar S#, Sharma D#, Vashist A, Kaur K, Taneja NK, Chauhan S, Challu VK, Ramanathan VD, Balasangameshwara VH, Kumar P and Tyagi JS (2010) Co-expression of DevR and DevRN-Aph proteins is associated with hypoxic adaptation defect and virulence attenuation of Mycobacterium tuberculosis. PLoS One, 5, e9448 (#equal contribution).

Sharma D*, Mohanty D and Surolia A (2009) RegAnalyst: a web interface for the analysis of regulatory motifs, networks and pathways. Nucleic Acids Res, 37, W193-W201.

D'Souza-Ticlo D, Sharma D and Raghukumar C (2009) A Thermostable Metal-Tolerant Laccase with Bioremediation Potential from a Marine-Derived Fungus. Mar Biotechnol, 11, 725-737.

Sharma D and Tyagi JS (2007) The value of comparative genomics in understanding mycobacterial virulence: M. tuberculosis H37Ra genome sequencing - a worthwhile endeavour. J Biosci, 32, 185-189.

Sharma D, Bose A, Shakila H, Das TK, Tyagi JS and Ramanathan VD (2006) Expression of mycobacterial cell division protein, FtsZ, and dormancy proteins, DevR and Acr, within lung granulomas throughout guinea pig infection. FEMS Immunol Med Microbiol, 48, 329-336.

Bagchi G, Chauhan S, Sharma D and Tyagi JS (2005) Transcription and autoregulation of the Rv3134c-devR-devS operon of Mycobacterium tuberculosis. Microbiology, 151, 4045-4053.

Sharma D, Issac B, Raghava GPS and Ramaswamy R (2004) Spectral Repeat Finder (SRF): identification of repetitive sequences using Fourier transformation. Bioinformatics, 20, 1405-1412.

Malhotra V, Sharma D, Ramanathan VD, Shakila H, Saini DK, Chakravorty S, Das TK, Li Q, Silver RF, Narayanan PR and Tyagi JS (2004) Disruption of response regulator gene, devR, leads to attenuation in virulence of Mycobacterium tuberculosis. FEMS Microbiol Lett, 231, 237-245.

Tyagi JS and Sharma D (2004) Signal transduction systems of mycobacteria with special reference to M. tuberculosis. Curr Sci, 86, 93-102.

Tyagi JS and Sharma D (2002) Genomic Study of Mycobacterium tuberculosis and its Clinical Applications. Indian J Pediatr, 69, S29-S38.

Tyagi JS and Sharma D (2002) Mycobacterium smegmatis and tuberculosis. Trends Microbiol, 10, 68-69.